About e–Accounts
e–Accounts is a consortium of the finest accountants in the world who have teamed up to provide small and medium sized businesses with the same outsourcing services that are available to larger businesses.
e–Accounts is based in Washington DC.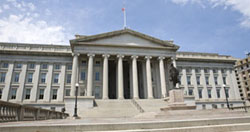 OUR MISSION
We are committed to providing your business with the best accounting services at a fraction of the cost of hiring your own bookkeeper. You get better service and faster delivery while saving time and money. Time saving helps you to concentrate on business strategy and on maximizing your company's profits.
HOW IT WORKS
We prepare your accounts overnight regardless the size of the job. If you have large volumes of source documents we assign more people to your account. Our accountants are highly efficient - they complete at least 20 transactions per hour which is far more transactions than an average bookkeeper.
All of our accountants have college degrees with specialization in accounting. Most have MBA's or are CPA's. All of our candidates are experts in Microsoft Excel, various types of accounting software, and are experienced at preparing accounts remotely.